12 African Nations' First Ladies Visit Swaminarayan Akshardham, New Delhi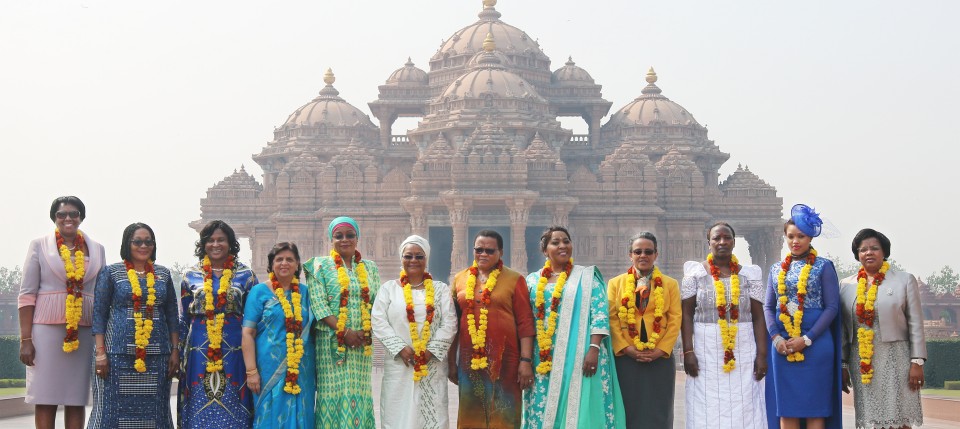 From the Indian-Africa Forum Summit III in New Delhi, 12 First Ladies from African Nations visited Swaminarayan Akshardham in New Delhi.


The visiting African delegation included H.E. Mme. Ana Paula dos Santos of Angola, H.E. Mme. Beatrice Harerimana of Burundi, H.E. Mme. Roman Tesfaye of Ethiopia, H.E. Mme. Lordina Dramani Mahama of Ghana, H.E. Mme. Mathato Mosisili of Lesotho, H.E Mme. Keita Aminata Maiga of Mali, Lady Sarojini Devi Jugnauth of Mauritius, H.E. Mme. Monica Geingos of Namibia, Her Majesty Queen Inkhosikati Make Lafogiyane of Swaziland, H.E. Mme. Bongi Ngema Zuma of South Africa, H.E. Mme. Asha Mahmoud Mzee of Tanza
nia and H.E. Mme. Edith Kutesa of Uganda.

Each First Lady was welcomed in a traditional Indian manner with flowers, a chandlo (vermillion powder) and the tying of the sacred kalva (sacred thread) by senior representatives of Swaminarayan Akshardham and BAPS Swaminarayan Sanstha.

After admiring the Mayur Dwar (Peacock Gate), the delegation went to the Swaminarayan Akshardham Mandir. After offering respects and viewing the mandir's architecture, the delegation visited the Gajendra Pithika (Elephant Plinth) that features 148 life-like carved stone elephants depicting messages of social harmony, peace and spirituality.

Then, the delegation offered prayers for world peace and harmony by offering 'abhishek', the ceremonial pouring of sanctified water from 151 holy rivers, lakes and ponds across India, on the sacred image of Sri Neelkanth Varni.

The delegation also experienced the educational boat ride exhibition 'Sanskruti Darshan', viewing India's glorious heritage and India's contributions to humanity through the ages during the 14-minute boat ride.


H.E. Mme. Ana Paula dos Santos
First Lady of Angola
It was an important experience – a visit to a place with a magnificent architecture and link to spirituality. It is peaceful and the faith reflects. It is a place makes us stronger, more inspired and makes us have great realization.
H.E. Mme. Beatrice Harerimana
First Lady of Burundi
This place is really awesome. The architecture is really beautiful with a lot of detail and wisdom. I had a good experience of the Hindu religion.

H.E. Mme. Roman Tesfaye
First Lady of Ethiopia
Akshardham is a setu (bridge) – a symbol for human beings attempt to reach to high level of holiness and goodness. The leadership of diligent and dedicated leaders could result in such a marvelous art work. I am thankful for the humble hospitality that is extended to myself and all delegates from Ethiopia.

H.E. Mme. Lordina Dramani Mahama
First Lady of Ghana
It was a very interesting and eye-opening and inspirational experience that has drawn me closer to my God. I am very grateful for the hospitality accorded to me during my tour.

H.E. Mme. Mathato Mosisili
First Lady of Lesotho
It is beyond one's comprehension and lessons learnt from way back so applicable in modern day life as long as you listen with your "soul". Grateful for having been given the opportunity to look into our "inner self"

H.E Mme. Keita Aminata Maiga
First Lady of Mali
The visit was really educative. It is a place of peace, humanity and wisdom. Simply magnificent and a beautiful monument. May we keep inspiring from the past values to make our life more beautiful. Well done to Indian people for their ingenuity work.

Lady Sarojini Devi Jugnauth
First Lady of Mauritius
I am very happy today to be here and I had the chance of getting somebody to explain to me the details of all the different periods in history that is here. It has been a wonderful experience in my life. Thanks to everybody who has opened all the doors of this beautiful place to me.

H.E. Mme. Monica Geingos
First Lady of Namibia
I was touched by the deep sense of spirituality, intellectuals and culture. The intricate architectural detail is fascinating as are the stories attached to most of the detail. This was a wonderful experience.

Her Majesty Inkhosikati Make Lafogiyane
Queen of Swaziland
It was a spiritual uplifting experience. It was my first time visiting the temple. I feel so blessed. Everything in the temple is enlightening. I got to learn more about the culture of India, where everything comes from and how it was created. The temple is a lovely place. I will surely come again for worship.

H.E. Mme. Bongi Ngema Zuma
First Lady of South Africa
What an experience! We have learnt a lot about the Indian culture. The selflessness, sacrifice, and devotion of the leaders Knowing that this place was built by volunteers is a lesson for the whole world.

H.E. Mme. Asha Mahmoud Mzee
Wife of the Vice President of Tanzania
It was a great experience! It's wonderful and I hope to visit soon to see more of the rich culture.

H.E. Mme. Edith Kutesa,
Wife of the Minister of Foreign Affairs of Uganda
Wife of the President of 69th Session of the United Nations General Assembly
Thank you for this extraordinary experience which took us in the heart of Indian culture! It makes me understand the power of spiritual values as the main foundation of development of a nation. It taught me where comes the economic and social power of today's India and its strong democracy. I wish to congratulate your for this beautiful amazing epic temple, which is full of the history of India.

HRH Princess Ncengencenge
Princess of Swaziland
A spiritually and informative experience. The temple's magnificent beauty is something to behold. The Indian culture tour was also enlightening. India has a rich history that the world can benefit from.