Armenian Minister of Foreign Affairs Expresses 'Shanti' on First Visit to India and Swaminarayan Akshardham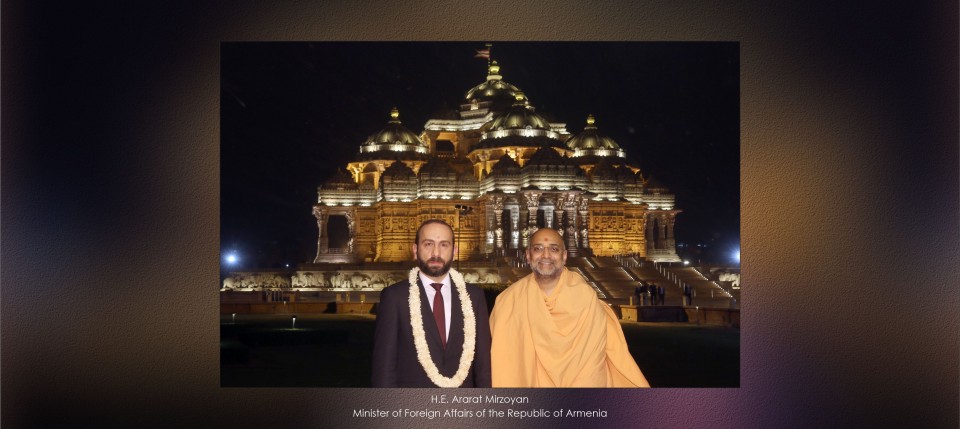 Minister of Foreign Affairs of the Republic of Armenia, H.E. Ararat Mirzoyan, visited Swaminarayan Akshardham in New Delhi as part of his first official trip to India.

Armenian Foreign Minister Ararat Mirzoyan and Deputy Foreign Minister Mnatsakan Safaryan, along with a 20-member Armenian delegation were greeted and traditionally welcomed by Gnanmunidas Swami on behalf of His Holiness Mahant Swami Maharaj.
Foreign Minister Mirzoyan and the delegation offered respects at the Swaminarayan Akshardham Mandir and performed abhishek for world peace and in remembrance of the Armenian Genocide Memorial Day.

After viewing Gajendra Peeth – the gallery of carved stone elephants depicting messages of peace, spirituality, family values, and social harmony, the delegation experienced the Sanskruti Vihar boat ride exhibition that displays 10,000 years of India's heritage and discoveries.

Before he departed, Foreign Minister H.E. Ararat Mirzoyan was presented mementoes commemorating Swaminarayan Akshardham and the birth centenary celebrations of Pramukh Swami Maharaj.

Expressing his gratitude and sentiments, the Foreign Minister of Armenia Ararat Mirzoyan wrote, "It was a real honor and great pleasure for me to visit the temple. Shanti!"