BAPS COVID-19 Relief Aid by Swaminarayan Akshardham in North India

BAPS Swaminarayan Sanstha mobilized critical and essential relief aid during the COVID-19 second wave throughout North India from its regional headquarters at Swaminarayan Akshardham in New Delhi and its extensive regional network of mandirs and centers since 17 April till date.
 New Delhi

Chandigarh


Himachal Pradesh


Haryana


Punjab


Rajasthan


Uttarakhand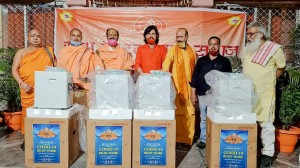 An unrelenting surge in infections and deaths from the coronavirus pandemic has plagued India with its hospitals coming under extreme pressure from shortages of oxygen and critical care beds all over North India. With large numbers of critical cases in a much shorter period of time, an overwhelmed national health service has caused a shortage of medicines, hospital beds, essential oxygen supplies, oxygen cylinders, doctors and medical staff and medical equipment that has also led to a dire rise in the number of deaths.

Under the inspiration and guidnace of His Holiness Mahant Swami Maharaj, Swaminarayan Akshardham in New Delhi has been helping and supporting COVID-19 patients and families for the last months in a number of ways across New Delhi, National Capital Region (NCR), Chandigarh, Haryana, Punjab, Himachal Pradesh, Uttarakhand, Jammu & Kashmir, Ladakh, Uttar Pradesh, and Rajasthan.

Sourcing & Delivering Oxygen Concentrators
Combating the major problem hospitals, COVID-19 centers, and patients faced with a supply shortage of oxygen, oxygen concentrators, oxygen cylinders and essential medical support, Swaminarayan Akshardham, with the support of its sister BAPS center in Abu Dhabi and well-wishers from Taiwan was able to provide much-needed help. Over 220 oxygen concentrators have been distributed free to hospitals, nursing homes, COVID-19 centers, old age homes, charitable trusts, institutions, organizations and societies. Amongst the places distributed include the following: National Regional Capital in New Delhi, Gurgaon and Noida; Chandigadh including Panchkula and Mohali, Haryana in Kurukshetra, Karnal, Sonipat, Ambala Cantt and Ambala City; Himachal Pradesh in Shimla, Dharmshala; Punjab in Jalandhar; Rajasthan in Jaipur, Jodhpur, Pokhran, Phalondi, Shergarh, Luni and Lohavat and Uttarakhand in Rishikesh and Haridwar.

Distributing COVID-19 Protection Materials
To aid the continuous fight against the pandemic and to promote proactive prevention, essential protection materials were freely distributed.

Masks – To remind and encourage people to continue using masks, over 5,000 face masks have been distributed free to families.

Oximeters – With a rise in acute respiratory complications, over 500 oximeters have been distributed free to help continuously monitor pulse and oxygen levels.

Face Shields – Helping front-line warriors with essential equipment, over 650 face shields have been distributed for free.

Hand Sanitizers – Over 10,000 liters of liquid hand sanitizers have been distributed free to all front-line warriors and people dealing with public affairs.

Conducting COVID-19 Vaccination Drives
In collaboration with both the state government and private hospitals, Swaminarayan Akshardham organized a number of COVID-19 vaccination drives in New Delhi that have administrated over 2000 vaccines free till date.

Providing Essential Medicines to Critically Infected
Critical patients who are unable to obtain needed prescribed medicines due to personal or situational challenges have been relieved with the efforts of Swaminarayan Akshardham to facilitate providing medicines free of cost.

Facilitating Oxygen Cylinders to Needy
With an overwhelming number of patients requiring oxygen support but unable to obtain the necessary needs, Swaminarayan Akshardham had helped hundreds of patients with either oxygen or oxygen cylinder, thus helping patients with life-saving assistance and speedy recovery.

Home Delivery of Hot Meals
During the second COVID-19 wave in India, entire families have been affected by the virus. With every family member ill, freshly cooked meals have been a problem for many. Swaminarayan Akshardham has provided freshly cooked and nourishing hot meals to many families. Prepared in the mandir kitchens, these packed hot meals are delivered twice a day to these families.

Volunteer Doctors Providing Free Consultations
Over 65 BAPS volunteer doctors and medical personnel have bravely gone beyond the call of duty to provide thousands of hours of free consultations and proper medical attention to poor and needy patients in person or via telemedicine.

Advocating Prevention Awareness
Through online assemblies, group meetings and personal phone calls and messages, prevention awareness is advocated constantly by reminding and inspiring people of all ages to practice COVID-19 safety precautions.

Continuous Counselling & Psychological Support
Through numerous initiatives, BAPS sadhus and volunteers continuously provide counselling and psychological support

Personal Phone Calls
To help individuals and families cope with the pandemic lockdown isolation and also to further help, guide and check on their well-being, sadhus and volunteers have been regularly phoning people and providing much-needed solace, support, counselling, motivation, help and guidance. To date, sadhus and volunteers have spent over 1.4 million minutes over the phone personally talking to thousands of people across north India, giving vital and invaluable benefits to all.

Online Last Rites & Tribute Meetings
Sadly, the pandemic has taken the lives of many loved ones. During these difficult times, when performing the last rites of the deceased has been a major problem, sadhus have performed countless online ceremonies and services for the relatives. Furthermore, the sadhus and devotees have attended online prayer and tribute assemblies to provide support and moral strength for all.

Online Mahapuja Prayers
A special online Vedic Mahapuja was organized echoing the spirit of 'Vasudhaiv Kutumbakam' (the whole world is one family) in which prayers were offered for the well-being and betterment of all people, regardless of religion, nationality, race, or beliefs, and for an end to the global COVID-19 pandemic.

Appreciation Prayers
A special prayer of apperception was also conducted for the well-being of all the people in public services who are selflessly serving at the frontline.

Daily Prayers
The sadhus and devotees offer daily prayers for the quick recovery of those affected by the virus, for the protection of all front-line warriors and a quick end to the global pandemic.

Supporting COVID-19 Protocols with Online Satsang
Proactively, BAPS Swaminarayan Sanstha at Swaminarayan Akshardham and throughout its mandirs and centers has cancelled all public assemblies and public gatherings and closed its facilities to the public in an effort to break the chain of infection. Instead, regular online Satsang for people of all ages have been arranged. Sadhus and devotees provided guidance on practical living in difficult times of the pandemic. Hundreds of thousands of people have benefitted in all states of North India including New Delhi & NCR, Haryana, Punjab, Chandigarh, Uttarakhand, Himachal Pradesh, Jammu & Kashmir, Ladakh, Uttar Pradesh, Rajasthan and Madhya Pradesh. To date, over 1,400 hours of satsang has been presented via online assemblies and group gatherings for all age groups wherein regular awareness and reminders for COVID-19 preventions and hygiene practices are encouraged and explained to all.

Mobilized Volunteer Force of BAPS Sadhus & Volunteers
With an active mobilized force of 32 sadhus and over 1,000 volunteers, BAPS Swaminarayan Sanstha selflessly serves in North India to provide relief and help to thousands of those in need.