Commonwealth Games Federation Vice-President Bruce Robertson Experiences Indian Culture at Akshardham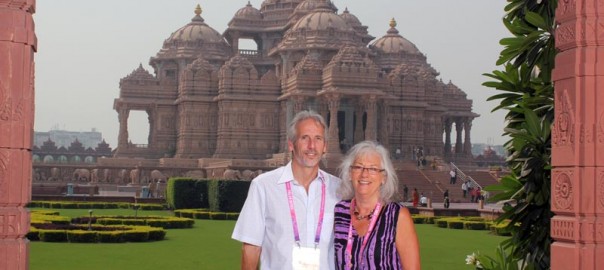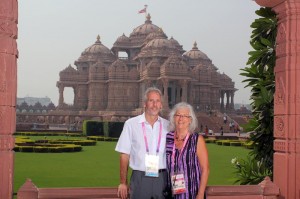 Commonwealth Games Federation Vice President, Bruce Robertson, visited Swaminarayan Akshardham in New Delhi to experience the cultural complex. Robertson, a former Olympic and Commonwealth Games aquatic medallist, was traditionally welcomed by senior sadhus of Akshardham on behalf of His Holiness Pramukh Swami Maharaj, the inspirer and creator of Swaminarayan Akshardham and the head of BAPS Swaminarayan Sanstha. 
Along with his wife, Sheila Roberston, the CGF Vice President visited the Swaminarayan Akshardham complex, marvelling at the traditional architecture and beautiful stone artwork.  The couple then performed 'Abhishek' – the ceremony of pouring sanctified water on the sacred murti of Bhagwan Neelkanth and offered prayers of peace for the people of Canada and India and the continual peaceful relationship between Canada and India.  Thereafter, he experienced the Cultural Boat Ride exhibition that sails through India's glorious heritage.  Then he viewed the large-format documentary, Neelkanth Darshan, which takes an awe-inspiring journey around the length and breadth of India.
Sharing his impression of Akshardham's impact, Mr. Robertson wrote, "Spectacular architecture and remarkable building skills.  It is a priceless jewel of India."
After a memorable two and a half hour visit, Mr. Robertson was gifted Swaminarayan Akshardham mementos and delicious sanctified sweets called prasad.
Mr. Robertson was very grateful for the opportunity to visit Swaminarayan Akshardham and felt an experience of inner peace.  Expressing his sentiments upon leaving, he said, "It was a wonderful sight.  Beautiful architecture. I am really glad that many of the athletes had the opportunity to come the temple and get a sense of Indian culture. Being right next door to the athlete's village, it was very convenient and I gather quite a number of them took advantage of the opportunity to come here.
"The message here is quite consistent with what sport is all about. Sport brings people together from all around the world. The Commonwealth Games have 71 teams from 54 nations together in peace, fair competition and sportsmanship – very consistent with the messages you have here at the temple."
Commenting on the arrangements for the Games, Robertson said, "There certainly were some challenges early on but Delhi pulled together. Particularly the volunteers did a spectacular job in welcoming everyone here to India and making them feel at home. I have to say the Indian athletes were the highlight of the whole event. They preformed wonderfully and there were some remarkable performances right the way through. India should be proud of their athletes."