Congresswoman Tulsi Gabbard of the United States House of Representatives visits Swaminarayan Akshardham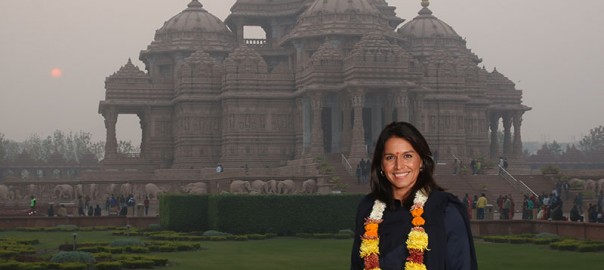 United States House of Representatives Tulsi Gabbard, the first Hindu member of the United States Congress, visited Swaminarayan Akshardham in New Delhi to experience India's ageless beauty, borderless culture and timeless values.
Congresswoman Tulsi Gabbard was welcomed in a traditional Indian manner with a garland of flowers, a chandlo (vermillion powder) and the tying of the sacred kalva (sacred thread) by trustees and senior volunteers on behalf of Swaminarayan Akshardham and BAPS Swaminarayan Sanstha.
Congresswomen Gabbard's delegation included Sunil Khemaney, Manav Lalwani and MEA Undersecretary Nabanita Chakrabararti.
After admiring the Mayur Dwar (Peacock Gate), the delegation made their way to the Swaminarayan Akshardham Mandir where they witnessed the world's 'Largest Comprehensive Hindu Temple'.
After offering respects and viewing the mandir's architecture, the delegation visited the Gajendra Pithika (Elephant Plinth) that includes 148 life-sized carved stone elephants depicting message of social harmony, peace and spirituality.
Congresswomen Gabbard offered prayers for world peace and harmony by offering 'abhishek', the ceremonial pouring of sanctified water from 151 holy rivers, lakes and ponds across India on the sacred image of Sri Neelkanth Varni.
The delegation experienced the educational exhibition – Sanskruti Vihar – a cultural voyage that sails through 10,000 years of India's glorious heritage, highlighting India's contributions to humanity through the ages.  Thereafter they witnessed the Sahaj Anand Water Show, a theatrical presentation about an ancient Upanishad story with modern fountains, projections, lasers and pyrotechnics.
Sharing her experience at Akshardham, Congresswoman Tulsi Gabbard wrote, "Many thanks for a warm welcome and a beautiful tour of Akshardham on my first-ever trip to India. The temple itself is intricately designed, with an incredible story on how it was built.  The Sanskruti Vihar boat ride and Sahaj Anand water show were impressive both because of the content and hi-tech engineering. I'm grateful to have had the opportunity to visit! I look forward to visiting more Swaminarayan Mandirs around the US and the world"