Earth Hour Celebration at Swaminarayan Akshardham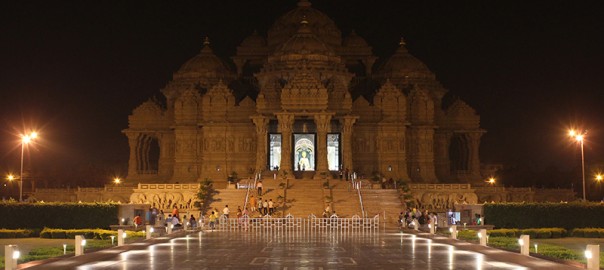 On 23 March 2013 from 8:30 pm to 9:30 pm, Swaminarayan Akshardham in New Delhi joined the international community in participating in the Earth Hour celebration. For one hour, Swaminarayan Akshardham supported its continual commitment for environmental conservation by switching off its lights.
In the fourth year of its participation in Earth Hour, Swaminarayan Akshardham continues to support environmental projects that promote the awareness and education of a cleaner and safer planet.
Around the world, Earth Hour is embraced by the global community, transcending race, culture, age and economics as individuals take leadership in their communities in the pursuit of a cleaner and safer planet.
The purpose of celebrating 'The Earth Hour' is to save electrical power, and to take a stand against climate change. The purpose was to stop the degradation of the earth's natural environment and build a future where people live in harmony by reducing light pollution and the carbon footprint.
Earth Hour has now a global sustainability movement in which all seven continents participate, along with world famous and iconic places like Sydney Opera House; the Harbour Bridge, the Empire State building, Swaminarayan Akshardham Mandir, India Gate, Gateway of India and other historic places under the Archaeological Survey of India in Delhi.