Earth Hour Celebration at Swaminarayan Akshardham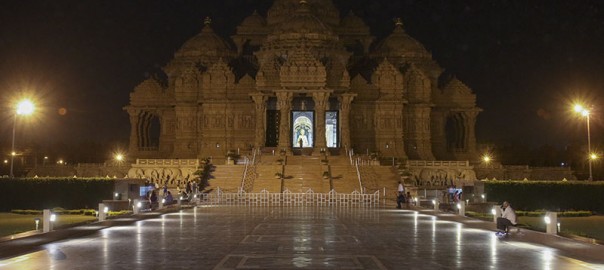 On March 28, 2015 from 8:30 pm to 9:30 pm, Swaminarayan Akshardham in New Delhi joined the international community in participating in the annual Earth Hour.  For one hour, Swaminarayan Akshardham supported its continual commitment for environmental conservation by switching off the mandir's lights. 
In its sixth year of participation, Swaminarayan Akshardham continues to support environmental projects that promote awareness and education towards a cleaner and safer planet.
Individuals, businesses, cities and landmarks around the world switch off their lights for one hour to focus attention on climate change. As the lights go out, Earth Hour supporters contribute to the real climate solutions to combat the globe's biggest environmental challenge.
Since its origin as a symbolic lights-off event in Sydney in 2007, Earth Hour has grown into the world's largest grassroots movement for the environment, igniting public awareness and action on climate in more than 7,000 cities across the world.
From Cambodia to Cameroon to Colombia, homes, offices, skylines and monuments went dark as the world united to inspire collective action to change climate change. Over 1,200 landmarks such as the Eiffel Tower in Paris and the Golden Gate Bridge in San Francisco turned off their lights. Close to 40 UNESCO World Heritage Sites including the Acropolis in Athens and Edinburgh Castle in Scotland went dark in support of Earth Hour.