Mayor of London, Boris Johnson, Visits Swaminarayan Akshardham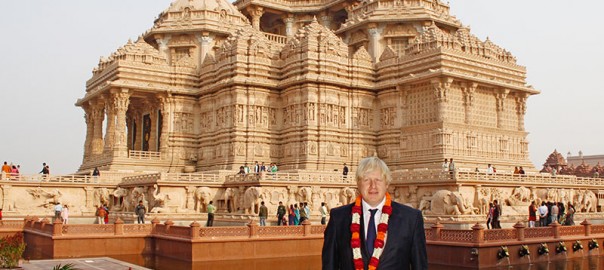 Mayor of London, Boris Johnson, visited Swaminarayan Akshardham in New Delhi with a 25-member delegation that included the Deputy Mayor of London.
        
On behalf of His Holiness Pramukh Swami Maharaj, the inspirer and creator ofSwaminarayan Akshardham, senior sadhus welcomed Mayor Johnson in traditional style by applying a tika (vermillion powder), tying a sacred nada chhadi and a offering garland of sanctified flowers.
During the visit the Mayor admired the Mayur Dwar (Peacock Gate) and the Gajendra Pithika (Elephant Plinth). The delegation also experienced the Sanskruti Vihar (cultural boat ride) exhibition and Neelkanth Darshan large screen film.
Captivated by the Akshardham Mandir, the Mayor of London expressed that, "I am truly touched and inspired by Akshardham's message of unity in diversity and peace and the spirit of volunteerism and dedication." He also prayed for world peace and harmony by performing 'abhishek' on the sacred image of Shri Neelkanth Varni.
Delighted with his experience, Mayor Johnson wrote, "I would like to thank everyone at Akshardham for a wonderful tour of this temple. The Neasden temple (BAPS Swaminarayan Mandir in London) is one of the great landmarks of London – but this is truly astonishing."