Mrs. Cherie Blair Visits Swaminarayan Akshardham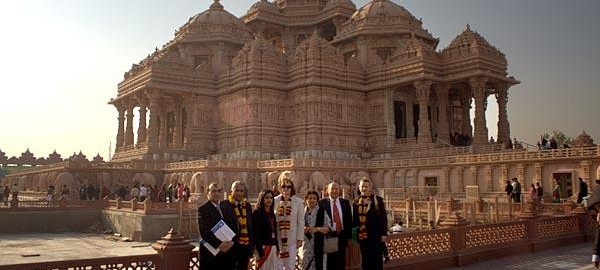 Mrs Cherie Blair, wife of former Prime Minister of the United Kingdom, Mr Tony Blair, visited Swaminarayan Akshardham in New Delhi on Sunday, 13 January 2008.
She was warmly welcomed in the traditional Indian manner with a chandlo, nada-chhadi and garland at the exquisite Mayur Dwar by senior BAPS members of the women's wing.
Then together with Lord Dholakia and Mr Raj Loomba, also from London, the delegation visited the main temple and thereafter performed abhishek (ritual pouring of holy water) of the small metallic image of Shri Nilkanth Varni.
The group then proceeded to the 'Sanskruti Vihar' boat-ride where they sailed through an introduction of India's ancient civilization, and then also enjoyed the light and sound shows in the Hall of Values.
Mrs Blair was clearly moved by her experience at Akshardham, noting, "I have never been to a temple like this before." She later wrote: "A wonderful example of using modern technology to transmit timeless spiritual values."