Myanmar President H.E. U Htin Kyaw Visits Swaminarayan Akshardham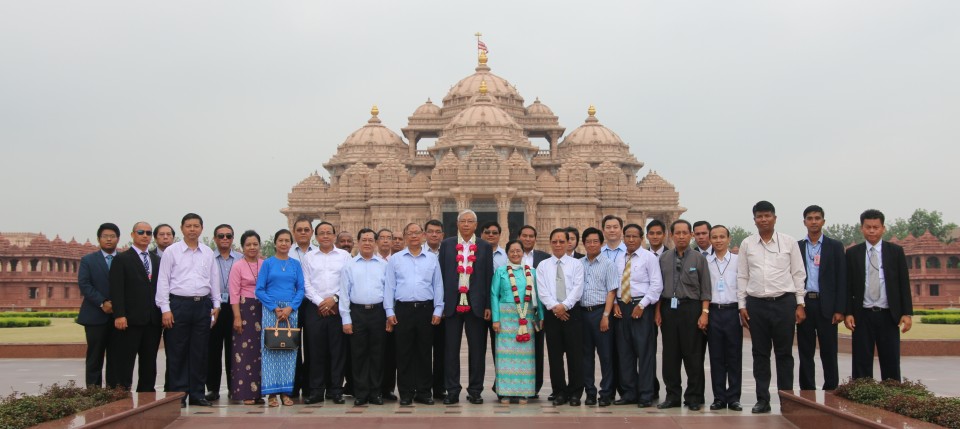 President of the Republic of the Union of Myanmar, H.E. U Htin Kyaw, visited Swaminarayan Akshardham in New Delhi to experience India's ageless beauty, borderless culture and timeless values.
On behalf of His Holiness Mahant Swami Maharaj – Spiritual Head of Swaminarayan Akshardham and BAPS Swaminarayan Sanstha – senior sadhus traditionally welcomed Myanmar President U Htin Kyaw with a garland of flowers, a chandlo (vermillion powder) and the tying of the sacred kalva (sacred thread).
Accompanying President Htin Kyaw was a thirty-five member delegation including First Lady of Myanmar Dsw Su Su Lwin MP, Union Minster of Religious Affairs and Culture H.E. Thura U Aung Ko, Union Minster of Transport and Communication H.E. U Thant Sin Maung, Union Minster of Labour, Immigration and Population H.E. U Thein Swe and Minister of State for Foreign Affairs H. E. U Kyaw Tin and Dow Lwin Lwin Hman – Spouse of the Minister of State for Foreign Affairs
After admiring the Mayur Dwar (Peacock Gate), the delegation made their way to the Swaminarayan Akshardham Mandir where they witnessed the world's 'Largest Comprehensive Hindu Temple'.
After offering respects and viewing the Mandir's architecture, President Htin Kyaw visited the Gajendra Pithika (Elephant Plinth) that includes 148 life-sized carved stone elephants depicting message of social harmony, peace and spirituality.
President Htin Kyaw offered prayers for world peace and harmony by offering 'abhishek', the ceremonial pouring of sanctified water from 151 holy rivers, lakes and ponds across India on the sacred image of Sri Neelkanth Varni.
Thereafter the President of Myanmar and the Myanmar delegation experienced the educational exhibitions: Neelkanth Darshan – a Giant Screen film on the epic journey of Neelkanth Varni throughout India and Sanskruti Vihar – a cultural voyage that sails through 10,000 years of India's glorious heritage, highlighting India's contributions to humanity through the ages.
Sharing his experience of Akshardham, President of the Republic of the Union of Myanmar H.E. U Htin Kyaw wrote, "It has been a great pleasure and privilege to us to visit the Swaminarayan Akshardham Temple, which reflects the unique Hindu culture. We are very much touched by its splendid art and architecture."
Sharing her experience of Akshardham, First Lady of Myanmar Dsw Su Su Lwin wrote, "It has been a very informative visit for reminding us all of the importance of spirituality in this age of much greed and opulence.  The temple, which stands a testimony to the power of knowledge and wisdom which His Holiness (Pramukh Swami Maharaj) has imparted to all humankind is indeed a reminder to us of the benefits of teamwork, coordination and harmony. The world should really be global for us all."