National Launch of World Diabetes Day at Swaminarayan Akshardham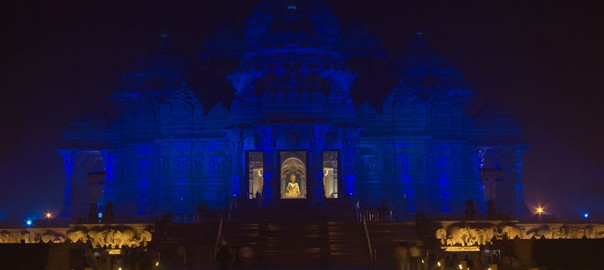 Celebrating World Diabetes Day in India on Nov 7, 2012, the blue lighting of India's monuments commenced at Swaminarayan Akshardham in New Delhi. For the first time in India, prominent leaders and representatives of several religious communities came forward to call for diabetes screening in the nation's biggest diabetes awareness drive. It is the biggest campaign so far to increase awareness about diabetes prevention and management.
"Diabetes is rising in the country at an alarming rate which prompted us to seek out better and far-reaching ways of spreading awareness among the masses," said Dr. A K Jhingan, Chairperson, Delhi Diabetes Research Centre. "Since ours is a religious country, we have a wonderful opportunity to seek the influence of religious leaders in creating awareness about diabetes and helping educate people to take proactive action and change their lifestyle," he added.
As part of the Blue Monument Lightening Challenge, Swaminarayan Akshardham Mandir, Sacred Heart Cathedral, Jama Masjid and Gurudwara Rakabganj lit up in blue simultaneously, uniting all religious communities to spread the message among common people.  The event was organized in association with the Ministry of Health and Family Welfare (Government of India), Archaeological Survey of India and the International Diabetes Federation.
The grand opening ceremony culminated with Shri Dr. AK Walia, Hon'ble Minsiter of Health & Family Welfare, Delhi, illuminating Swaminarayan Akshardham Mandir in blue colour with a press of a button and thus simultaneously bathing numerous monuments and buildings across New Delhi and around the country in blue light.
A large number of diabetic children and adults, charity groups and NGOs; and other organizations, corporate representatives and distinguished doctors came to participate in the event. Special attendees at this kickoff ceremony also included:
 Mr. Jean Claude Mbanya – President of International Diabetes Federation

 Dr. Anoop Misra – Chairman, Fortis C-DOC Centre of Excellence for Diabetes, Metabolic Diseases and  Endocrinology, and Chairman, Center for Internal Medicine, Fortis Hospital, New Delhi
Leaders and representatives of four religious communities who were present to pledge their support for the campaign included Dr. J.M. Dave – Chief PRO, Shri Swaminarayan Akshardham Mandir, Shri P S Sarna – President Gurdwara Prabandhak Committee, Father Dominic Emmanuel – Director of Communication & Official Spokesperson of the Delhi Catholic Archdiocese and Shri Zakir Khan – Member of Waqf Board.
"Hundreds of cross-sectional studies show a connection between religion, better mental health and greater well-being. Community, religion & culture have a considerable impact on how patients access and respond to major healthcare problems. All religious leaders coming forward for diabetes awareness campaign will certainly create a positive impact on people's perception about the disease," said Dr Sanjeev Bagai, CEO & Dean, Radiant Life Care.
The lighting of Swaminarayan Akshardham kicked off India's participation for the third time in the Blue Monument Lighting Challenge, a call to illuminate iconic landmarks, monuments and buildings all over the world in the official blue colour on World Diabetes Day, thus supporting the global campaign for diabetes awareness.