Opening of New Water Show "Sahaj Anand"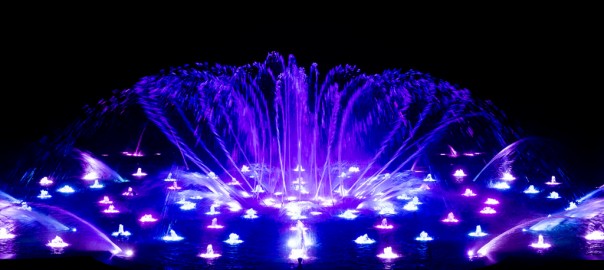 The Swaminarayan Akshardham at New Delhi, a unique cultural complex created by His Holiness Pramukh Swami Maharaj, witnessed the ceremonial inauguration of the Sahaj Anand Water Show in the revered presence of Pujya Mahant Swami and senior sadhus of the BAPS Swaminarayan Sanstha including 3,000 dignitaries and devotees from across India and the world.
The new immersive Water Show, inaugurated with Vedic prayers, is a captivating and elevating experience. Based on the Kena Upanishad, it uses the most modern media to tell the most ancient story. The 24 minute show is a breath-taking presentation; a symphony of water, fountains, music, fire, lasers, animations, projections, pyrotechnics and even live acting to bring to life the divine dialogue of the devas. Varun, Agni, Vayu, Surya and Indra find the source of ultimate power, peace and everlasting joy. 
On this occasion, Pujya Atmaswarupdas Swami stated, "This Sahaj Anand Watershow is Akshardham's special gift to the nation. For over the last one and a half years, more than 150 BAPS volunteers and sadhus have selflessly devoted their valuable time and energy to shape the Upanishadic concept into reality."
The senior sadhu and lead organiser, Pujya Ishwarcharandas Swami noted, "This is an act of great devotion and teamwork, a humble attempt to use modern media to introduce India's new generation to its ancient wisdom. This Watershow shares a life-transforming spiritual message."
The creative director of the Water Show is internationally acclaimed French designer Yves Pépin. He has designed shows at many large attractions and parks around the world, and also designed the Beijing Olympics' Opening Ceremony. Mr. Pépin expressed his Akshardham experience, "This is a spiritual Water Show. It is my fortune that I have had the opportunity to understand and communicate the knowledge of the ancient and holy Upanishads. Moreover, working with BAPS's team of volunteers, I feel that the technological skill as well as the spirit of service and sacrifice that BAPS has are truly incomparable."
Key to the success of this one-of-a-kind production, were the hard efforts of BAPS volunteers; Vipul Vaghela was the chief engineer and technical designer, Parag Shastri served as music director and Ritesh Gadhia as the senior producer.
On behalf of His Holiness Pramukh Swami Maharaj, Pujya Mahant Swami said, "India is a treasure house of knowledge and wisdom which this Water Show amply reveals and inspires. It teaches us to live without ego and pride – a spiritual way of overcoming daily stress. Our ancient spiritual knowledge teaches us that believing God to be the all-doer, frees one from ego and pride and allows one to experience Sahaj Anand – true, deep, innate joy."
Interestingly, today, the Swaminarayan Akshardham which was opened on 6 November 2005, enters its 10th year. At this auspicious moment, this new Water Show adds a jewel in the crown of Akshardham's many services.
On its inaugural night, this grand Sahaj Anand Water Show, not only mesmerized its first audience, but also energized the spectators towards a better, more peaceful living.