President of India, Her Excellency Pratibha Patil, Visits Swaminarayan Akshardham Mandir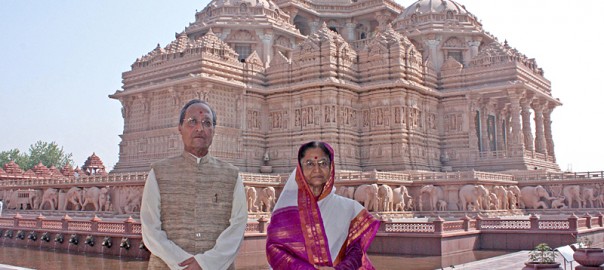 Her Excellency President Patil and her husband, Dr D.R. Shekhawat, visited Swaminarayan Akshardham this morning, in commemoration of their 44th wedding anniversary and Guru Purnima. Their daughter, Smt. Jyoti Rathore, and son, ShSmt. Jyoti Rathore, and ri Rajendra Singh, also accompanied them on this special occasion. They were traditionally welcomed by Dr J.M. Dave on behalf of His Holiness Pramukh Swami Maharaj, the inspirer of Swaminarayan Akshardham and the head of BAPS Swaminarayan Sanstha.
The President and her family offered prayers and flowers to Bhagwan Swaminarayan, Ganeshji and Hanumanji. Thereafter, they visited the entire Akshardham complex, which included the Ten Gates, Bhakti Dwar, Mayur Dwar, Holy Footprints, Elephant Plinth and Narayan Sarovar, which contains water from 151 holy rivers across India.
The family then performed 'Abhishek' – the ceremony of pouring holy water on the sacred murti of Bhagwan Neelkanth.
Thereafter, the President and her family visited the Hall of Values exhibition, the Giant Screen show and the spectacular boat ride exhibition portraying Indian culture.
Sharing her experience in the opinion book at Swaminarayan Akshardham, she wrote: "Today, on the very sacred Guru Purnima day we had the great fortune to have darshan and offer our homage to Bhagwan Swaminarayan. We thoroughly enjoyed every show. The life, penance, and challenges of Shri Swaminarayan tell us about his tremendous spiritual strength. I congratulate each and everyone who had contributed to this extraordinary monument. This creation was due to the inspiration of Pramukh Swamiji, who is worthy of praise by the nation."
In honour of her memorial visit, President Patil and family were gifted Akshardham mementos.
In all, the President and her family enjoyed the two-and-a-half hour visit to Swaminarayan Akshardham.