Queen's Baton 2010 Relay Arrives at Swaminarayan Akshardham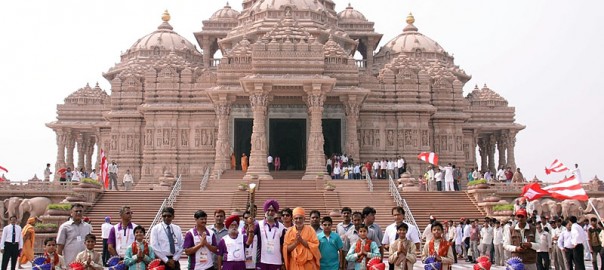 On the International Day of Non-Violence, Gandhi Jayanti, The Queen's Baton 2010 Delhi visited the renowned landmark Swaminarayan Akshardham on Saturday morning. The cultural complex is a jewel amongst international landmarks and also the pride of India. The Queen's Baton 2010 Delhi was proudly taken around the Akshardham Complex absorbing the beauty art and architecture.
Situated on the banks of Yamuna, Swaminarayan Akshardham is a 100 acre Cultural Complex that revives and celebrates Indian art, culture, tradition and values; through breathtaking stone carvings, inspiring cultural exhibitions and universal values of life. An architectural marvel, it provides the vast experience of India in just one place. The team did not miss a photo opportunity at the colossal landmark.
The delegation was traditionally welcomed with garlands, vermillion tilak and kalava (sacred thread) by the head of Swaminarayan Akshardham – Pujya Atmaswarup Swami on behalf of His Holiness Pramukh Swami Maharaj, the inspirer and creator of Swaminarayan Akshardham and the head of BAPS Swaminarayan Sanstha.
Amongst a cheering crowd of visitors and devotees, the Queen's Baton 2010 Delhi was welcomed and paraded by hundreds of colourful and traditionally dressed children throughout the complex. Children also performed a special peacock dance at the famous Peacock Gate – 'Mayur Dwar'.
Along with the Head of Akshardham – Pujya Atmaswarup Swami, Dronacharya Awardee Gurcharan Singh, Arjuna Awardee Ms. Sunita Sharma and Queen's Baton Relay Team Commander Lt Gen (Retd) SPS Dhillon, Convener Ms Alka Lamba and Chief Coordinator Col KS Banshtu all took turns carrying the Queen's Baton around the complex and inside the main mandir, with special darshan of the exquisite sacred images of Bhagwan Swaminarayan, Sita- Ram, Radha-Krishna, Lakshmi-Narayan, Parvati-Shivji.
Expressing their sentiments upon leaving, the delegation was very grateful for the opportunity to visit Swaminarayan Akshardham and felt an experience of inner peace.
Sharing her experience, Arjuna Awardee Mrs. Sumita Sharma expressed, "This place is entirely pervaded by God."
Ms. Gurjyot Kaur wrote, "It is a divine experience.".