"Renewed Value to Me," Expresses Guyana Minister of Foreign Affairs and International Cooperation Hugh Todd on Visiting Swaminarayan Akshardham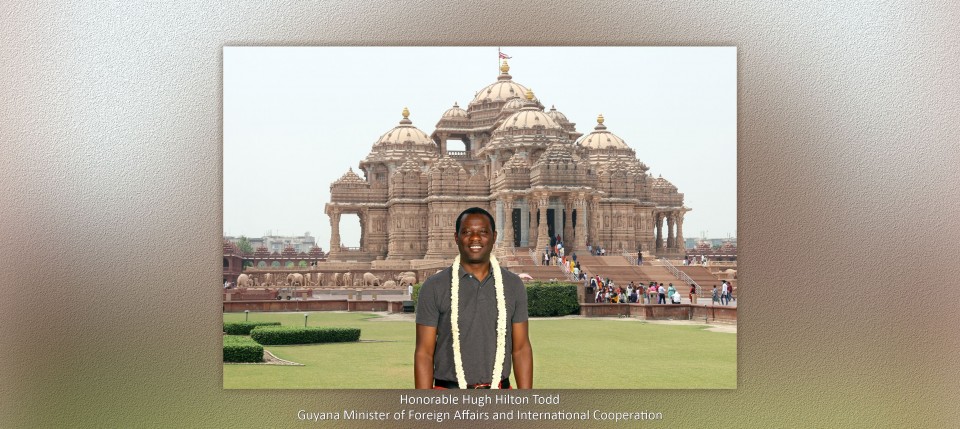 Guyana Minister of Foreign Affairs and International Cooperation Honourable Hugh Hilton Todd visited Swaminarayan Akshardham in New Delhi while on an official visit to India. Minister Todd was greeted and traditionally welcomed by Gnanmunidas Swami on behalf of His Holiness Mahant Swami Maharaj.

The Guyana Foreign Minister along with the five-member Guyanese delegation offered respects at the Swaminarayan Akshardham Mandir and performed abhishek for world peace and prosperity.

After viewing Gajendra Peeth of carved stone elephants depicting messages of peace, spirituality, family values and social harmony, the delegation experienced the educational exhibitions: Sahajanand Darshan (Hall of Values) – shows depicting the ideals of nonviolence, honesty, harmony, faith and others; Neelkanth Darshan – a film on the epic journey of Neelkanth Varni throughout India; and Sanskruti Vihar – a cultural boat ride highlighting 10,000 years of Indian history, heritage and discoveries.

Mementos commemorating Swaminarayan Akshardham and the birth centenary celebrations of Pramukh Swami Maharaj were specially presented to Minister Todd and the delegation.

"Today was a blessed day. The tour has brought renewed value to me personally. I feel uplifted and truly blessed," wrote Guyana Foreign Minister Todd, while expressing his gratitude and personal sentiments.