Saina Nehwal, Badminton Gold Medal Winner visits Swaminarayan Akshardham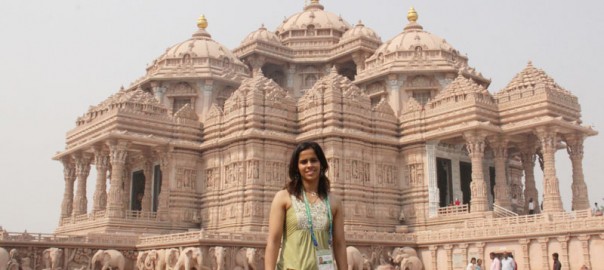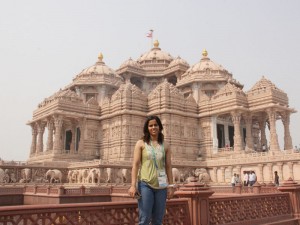 Indian badminton superstar, Saina Nehwal, visited Swaminarayan Akshardham in New Delhi. She offered her prayers for winning a gold medal that out medalled England and thus reaching the auspicious figure of 101 for India and making India second best in the Commonwealth Games Medal tally.
She was traditionally welcomed with garlands, tika and a sanctified sacred thread by Akshardham volunteer officials.
Accompanied by badminton bronze medal winner, Kashyap Parupalli, the Indian athletes toured the Swaminarayan Akshardham complex, marvelling at the traditional architecture and beautiful stone artwork. Inside the Akshardham Mandir, Saina Nehwal then performed 'Abhishek' – the ceremony of pouring sanctified water on the sacred murti of Bhagwan Neelkanth. She offered her respects and thankful prayers for her outstanding success in the Commonwealth Games and lifting India achievements to great heights.
Thereafter, she experienced the Cultural Boat Ride exhibition that sails through 10,000 years of India's glorious heritage. Then she viewed the large-format documentary, Neelkanth Darshan, which takes an awe-inspiring journey around the length and breadth of India.
After a memorable two and a half hour visit, Saina was gifted Swaminarayan Akshardham mementos and sanctified prasad.
Saina was very grateful for the opportunity to visit Swaminarayan Akshardham and felt an experience of inner peace. Expressing her sentiments upon leaving, she said,
"I really enjoyed visiting Akshardham. It's a dream come true to win such a big event in India, in front of my home crowd. It is a dream come true, after winning the gold medal, to come to such a beautiful temple. I really enjoyed everything over here. From the first day we have been trying to come here. We use to see it from the Games Village. My coaches and parents told me that if you win a gold medal you should go to the temple. I had been trying to come since the first day of the games, but did not have time to come until today. Today was the day only for temple and I actually wanted to come from last night, but I was at the closing ceremony. Today was wonderful and this is the best day of my life.
"I've learned from here that you should be cool and relaxed in your life and not be impatient. By seeing the film over here, I learned the things Swaminarayan has done from his childhood. I was not like him at the age of 11, not so relaxed. But now after seeing this film, I will surely be more relaxed and will try to be more patient on the court when I am playing a tough match."