'Spirituality can, indeed, lead us to rise above': California State Assembly delegation visits Swaminarayan Akshardham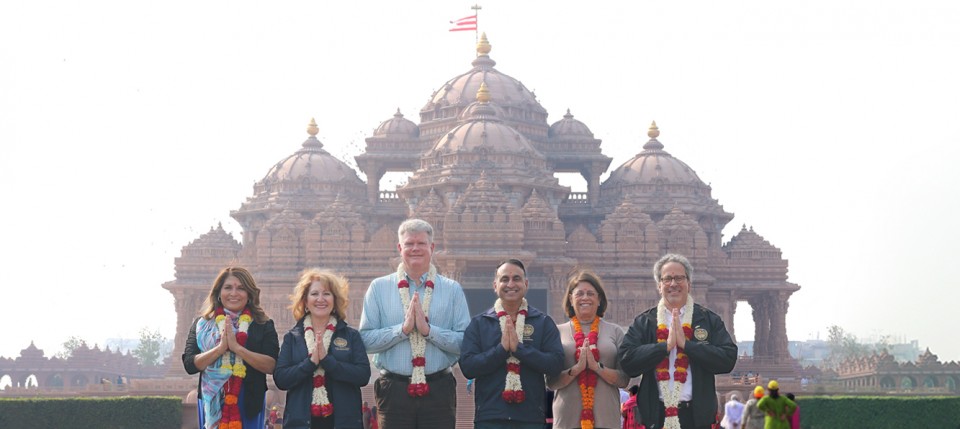 Six members of the California State Assembly visited Swaminarayan Akshardham in New Delhi on the birthday anniversary of Brahmaswarup Pramukh Swami Maharaj. Pramukh Swami Maharaj, creator of Akshardham, was the fifth spiritual successor of Bhagwan Swaminarayan and led the BAPS Swaminarayan Sanstha (BAPS) for 45 years. 
The delegation was greeted in a traditional manner by senior sadhus and volunteers of BAPS on behalf of Param Pujya Mahant Swami Maharaj, the current spiritual leader of BAPS.
The sixteen-member delegation was led by California State Assemblymember Ash Kalra (San Jose), an Indian-American who in 2017 met with Param Pujya Mahant Swami Maharaj in San Jose.
The group also included Assemblymember Cecilia Aguiar-Curry (Winters), Assemblymember Richard Bloom (Santa Monica) Assemblymember Member Sharon Quirk-Silva (Fullerton), Assemblymember Eloise Gomez Reyes (San Bernardino) and Assemblymember Mark Stone (Monterey Bay).
"The Mandir complex is truly representative of a modern-day wonder of the world and the six Assemblymembers who made up the first-ever California delegation to the site learned a tremendous amount about Indian spirituality and history as part of their visit," said Assemblymember Kalra. "I look forward to returning and believe this is a must-see for all foreign delegations."
Assemblymember Quirk-Silva agreed with Assemblymember Kalra's sentiments: "I feel like a whole new person [with] a depth of knowledge and a focus on elevating those around me."
"I appreciate your devotion," added Assemblymember Aguiar-Curry.
During their visit, the Delegation offered their respects at the Swaminarayan Akshardham Mandir and performed abhishek, the ceremonial pouring of sanctified water from 151 holy rivers, lakes and ponds across India on the sacred image of Shri Neelkanth Varni. The delegation toured the educational exhibitions Sahajanand Darshan (Hall of Values) – a series of animatronics shows depicting the ideals of nonviolence, honest, harmony and faith, and Sanskruti Vihar – a cultural voyage that sails through 10,000 years of India's heritage and contributions to society.
"It is a true honor to be welcomed to your traditions and learn of the tenets of your faith. If the world as it currently is will reflect on the enlightenment presented here, it will, indeed, be a more peaceful place," said Assemblymember Stone.
"Thank you for the absolute privilege of showing us and teaching us about a beautiful way of life," added Assemblymember Gomez Reyes. "Like the peacock, I will strive to walk tall and proud but with my head down in humility. Like the elephants, I will strive to keep my family together and strong."

The delegation also learned about the life work of Pramukh Swami Maharaj on a day that marked the 98th anniversary of his birth. His common adage, "In the joy of others, lies our own," resonated with the delegation's goal of public service.

"Spirituality can, indeed, lead us to rise above," said Assemblymember Bloom.

California is home to one of only six BAPS shikarbaddh mandirs in North America and more than ten mandirs and centers throughout the state. Pramukh Swami Maharaj first visited the state in the late 1970s, and opened California's first BAPS center in 1984. Since then, BAPS in California has flourished and plays an active role in serving its community. Most recently, BAPS Charities is working with local officials to help offset the effects of the ravaging wildfires in the northern and southern parts of the state.