Swaminarayan Akshardham Lights Up in Pink for Breast Cancer Awareness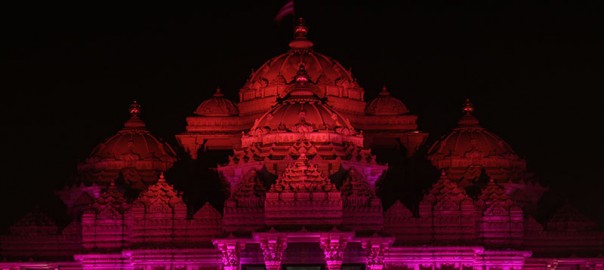 Awareness in India
Breast cancer is one of most common forms of cancer in India. Every year, almost 1.1 lakh new cases of breast cancer are reported in India – especially of urban women and young women. Since little education about this disease is known in the community, awareness and education is imperative for prevention, control and treatment.
Breast Cancer Awareness Month
Breast Cancer Awareness Month is an annual international health campaign organized by major breast cancer charities every October to increase awareness of the disease and to raise funds for research into its cause, prevention, diagnosis, treatment and cure. The campaign also offers information and support to those affected by breast cancer.
BAPS Swaminarayan Sanstha Supports Awareness
BAPS Swaminarayan Sanstha has been supporting Breast Cancer Awareness worldwide, along with many other humanitarian causes. Last year, BAPS Shri Swaminarayan Mandir in London was illuminated in pink on the evening of Wednesday 26 October 2011 to support Breast Cancer Awareness Month.