Swaminarayan Akshardham Offers a 'Lesson of Widsom and Peace,' Says French Senate Delegation Leader After New Delhi Visit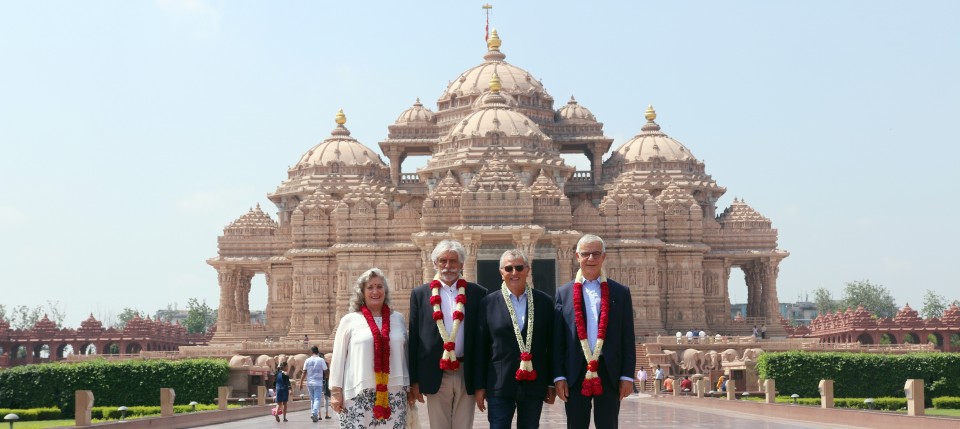 A four-member Parliamentary Delegation from the Senate of France experienced the beauty, culture and values of Swaminarayan Akshardham in New Delhi.

Led by President of the India-France Friendship Group of the Senate, Mr. Yvon Collin, the French delegation included Mr. Hervé Maurey, President of the Senate Standing Committee for Urban Planning and Sustainable Development; Mrs. Vivetta Lopez, Member of the Senate Standing Committee for Culture, Education and Communication and Mr. Jean-Luc Fichet, Member of the Senate Standing Committee for Constitutional Laws and Legislation.
On behalf of His Holiness Mahant Swami Maharaj, the Spiritual Head of Swaminarayan Akshardham and the BAPS Swaminarayan Sanstha, senior sadhus and trustees traditionally welcomed the French delegation by offering a garland of flowers, applying tilaka (vermillion powder) and tying the kalava (sacred thread) on their wrists.

The French Senators offered their respects at the Swaminarayan Akshardham Mandir and admired the Mandir's art and architecture. They viewed the Gajendra Pithika (Elephant Plinth) that includes 148 lifelike carved stone elephants depicting messages of social harmony, peace, and spirituality.

Sharing sentiments for world peace and harmony, the French Senate Delegation by offered abhishek, the ceremonial pouring of sanctified water from 151 holy rivers, lakes and ponds across India on the sacred image of Shri Neelkanth Varni. Thereafter, the French Senators experienced the educational exhibition Sanskruti Vihar – a cultural voyage that sails through 10,000 years of India's glorious heritage, highlighting India's contributions to humanity through the ages.


Sharing their sentiments at Akshardham, the French Senators wrote:

"The Delegation from the French Senate has just visited the temple created by Param Pujya Pramukh Swami Maharaj.  We have been delighted by the visit and we hope that all those who visit this temple learn from it a lesson of wisdom and peace. Congratulations. Excellent Work!"
Mr. Yvon Collin, President of the India-France Friendship Group of the Senate

"Very happy to have visited this extraordinary place of worship."
Mr. Hervé Maurey, President of the Senate Standing Committee for Urban Planning and Sustainable Development

"Congratulations! We are speechless seeing such beauty. Let peace be in the world and in this extraordinary site. Thank You."
Mrs. Vivetta Lopez, Member of the Senate Standing Committee for Culture, Education and Communication

"Thank you for this fascinating presentation of this Hindu temple, which makes us feel the power of this religion. Splendid Temple. An Art Piece."
Mr. Jean-Luc Fichet, Member of the Senate Standing Committee for Constitutional Laws and Legislation