Tanzania's President Jakaya Mrisho Kikwete Visits Swaminarayan Akshardham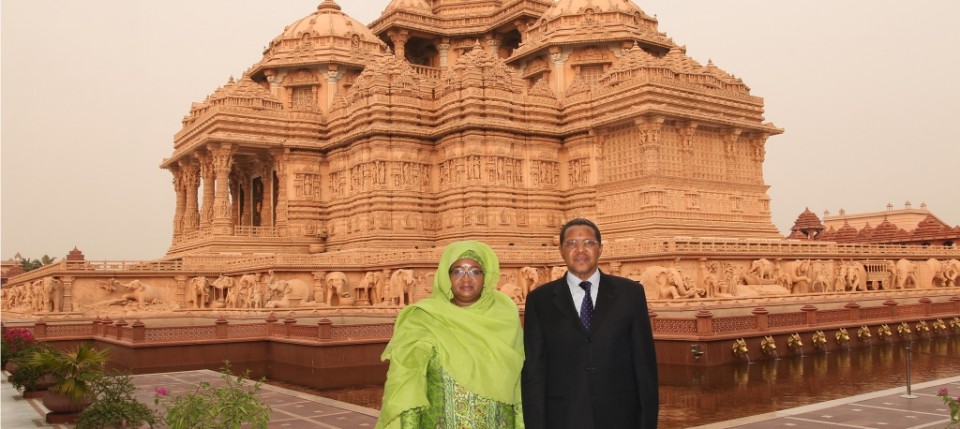 Tanzania's President Jakaya Mrisho Kikwete along with First Lady Salma Kikwete and a fifty-member Tanzanian delegation visited Swaminarayan Akshardham to experience India's ageless beauty, borderless culture and timeless values.
On behalf of His Holiness Pramukh Swami Maharaj – the inspirer and creator of Swaminarayan Akshardham and Spiritual Head of BAPS Swaminarayan Sanstha, senior sadhus traditionally welcomed Tanzania President Jakaya Mrisho Kikwete with a garland of flowers, a chandlo (vermillion powder) and the tying of the sacred kalva (sacred thread).  First Lady Salma Kikwete and the Tanzanian delegation were also traditionally welcomed by trustees of Swaminarayan Akshardham and BAPS Swaminarayan Sanstha including Mr. Subhash Patel, Chairman of BAPS Swaminarayan Sanstha in Tanzania.
After admiring the Mayur Dwar (Peacock Gate), the delegation made their way to the Swaminarayan Akshardham Mandir where they witnessed the world's 'Largest Comprehensive Hindu Temple'.
After offering respects and viewing the mandir's architecture, the delegation visited the Gajendra Pithika (Elephant Plinth) that includes 148 life-sized carved stone elephants depicting message of social harmony, peace and spirituality.
President Jakaya Kikwete and First Lady Salma Kikwete offered prayers for world peace and harmony by offering 'abhishek', the ceremonial pouring of sanctified water from 151 holy rivers, lakes and ponds across India on the sacred image of Neelkanth Varni.
The Tanzanian delegation experienced the educational exhibitions Neelkanth Darshan, a giant-screen film on the epic journey of Neelkanth Varni throughout India and Sanskruti Darshan, a boat ride through 10,000 years of India's glorious heritage that highlights India's contributions to humanity through the ages. 
Sharing his experience at Swaminarayan Akshardham, Tanzania President Jakaya Kikwete wrote, "Thank you for the opportunity to visit this holy and marvelous place. I am short of words to express my feelings.  I am simply very impressed with the work that has gone into creating this temple."
Sharing her experience, Tanzania First Lady Salma Kikwete wrote "Thank you for the positive reception. We have learned so much about Swaminarayan Akshardham. In fact, only if you went there, would you know the great things they have there.  Heartiest congratulations for preserving your history and culture. It is the heritage of generations to future generations."