U.S. Senator Bob Menendez 'Deeply Moved' by Visit to Swaminarayan Akshardham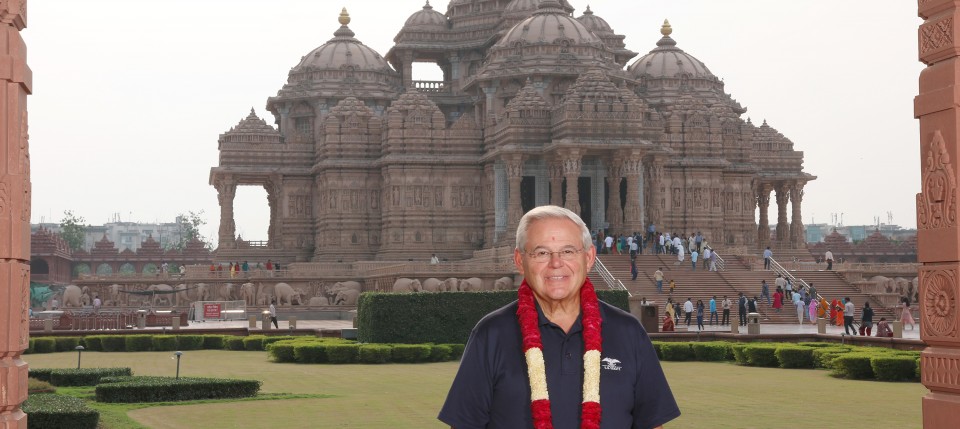 United States Senator Bob Menendez of New Jersey visited Swaminarayan Akshardham in New Delhi, where he is traveling on official business to strengthen ties between New Jersey and India.

Senator Menendez was traditionally greeted by Dharmavatsal Swami on behalf of Param Pujya Mahant Swami Maharaj, the sixth spiritual leader of BAPS. He offered respects at the Swaminarayan Akshardham Mandir and performed abhishek, the ceremonial pouring of sanctified water from 151 holy bodies of water from across India on the murti of Shri Neelkanth Varni Maharaj. He also toured the educational Sanskruti Vihar, a cultural voyage that displays 10,000 years of India's heritage and contributions to society.

Senator Menendez said he found Akshardham to be "an extraordinary celebration of faith, service and sacrifice," adding that he was "deeply moved by all that I have seen, heard and felt."

Senator Menendez met with Pramukh Swami Maharaj, the fifth spiritual leader of BAPS, during Pramukh Swami Maharaj's vicharan to New Jersey in 2007 to celebrate the centenary anniversary of BAPS.

At the time of Pramukh Swami Maharaj's passing in 2016, Senator Menendez offered his condolences to devotees: "[Pramukh Swami] has touched the lives of countless people, and serves as a constant inspiration to his followers. … I know we will all remember his tireless humanitarian and spiritual efforts."

New Jersey will soon be home to one of the largest Akshardham complexes worldwide and is home to seven other BAPS mandirs and large Indian and Hindu communities.