United States Congressional Delegation Strengthens Cultural Exchange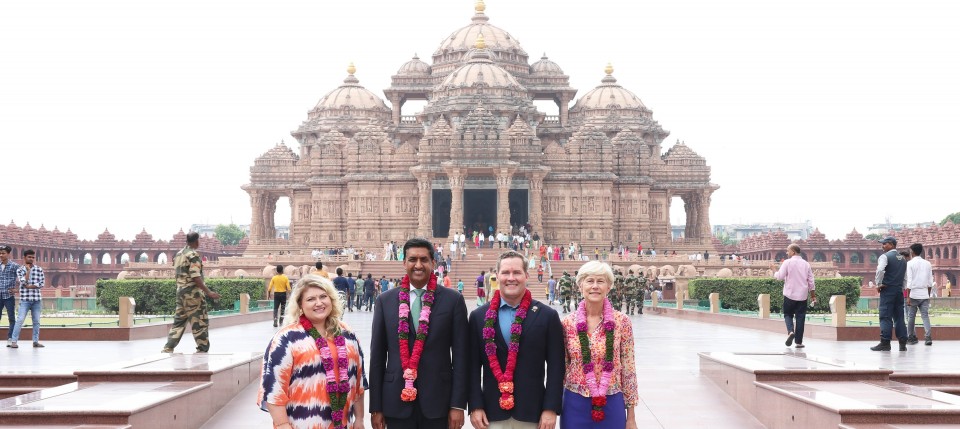 A distinguished United States Congressional Delegation led by Congressman Ro Khanna (CA-17) and Congressman Michael Waltz (FL-06), co-chairs of the bipartisan Congressional Caucus on India and Indian Americans, visited Swaminarayan Akshardham in New Delhi.
The delegation leaders and Congresswoman Deborah Ross (NC-2) and Congresswoman Kat Cammack (FL-3) were traditionally welcomed. Then they paid their respects at the Swaminarayan Akshardham Mandir and admired its art and architecture. They gained insights into the significance of the temple's design elements and spiritual philosophy.
The US congressional delegation also performed 'abhishek,' to pray for peace and best wishes. Experiencing the cultural boat ride through thousands of years of Indian history also left a lasting impression of India's rich heritage.
Congressman Ro Khanna expressed his gratitude, "We are honored to have been graciously welcomed by the Akshardham community. This visit has strengthened our nations' friendship bonds and highlighted the significance of cultural exchange."
Congressman Michael Waltz remarked, "Our visit to Swaminarayan Akshardham has been an incredible experience that deepened our understanding of India's cultural and spiritual roots. The warm reception and the opportunity to partake in sacred rituals have left a lasting impression on our delegation."